Wow, I got home from teaching dance tonight and found two great surprises.
1. My desk and crib projects were featured on the blog
Better After
! The two sites that I can get lost in for hours are Better After and the Design Sponge
before/after galleries
. Both sites have been known to soak up vast amounts of my evenings. Thank you again!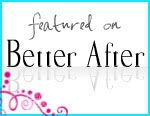 2. My inbox also had a Stylish Blogger Award from Eva (isn't that an awesome first name?) over at
Lovers in a Dangerous Time
.
As part of my award I'm supposed to share seven things about myself:
1. I am left handed when I write but I do almost everything else right handed.
BUT
when I paint I use whatever hand is closest to the side of the paper I need. Left hand paints left side of paper, right hand paints right side of paper. Get it?
2. My parents come from families of 8 and 9 siblings... so I have 1.1 million first cousins. Most of them went to my very small high school with me. Fun times. I love having lots of little baby cousin friends around for Lex.
3. I have a mole perfectly centered in the dent above my upper lip. Lots of people tell me that I have something on my mouth, or they think it is a piercing. Which also makes me super paranoid about always waxing ; )
4. I
have
to have noise in order to sleep. I use a white noise app on my phone a lot.
5. I (uber messy) shared a room with my (very clean) older sister until I was about 10. One day I packed up and moved my belongings into a large cardboard box in our playroom. I slept on a camping cot inside the box. My parents tried to wait me out thinking that I would eventually move back into my shared bedroom. In the end, a few years later, they built me walls and I got my own room.
6. I am a bubble bath freak. I can easily spend two hours in there reading (doesn't happen as much now that I'm a Mama.)
7. My parents used to let me "ice skate" with sponges tied to my bare feet and cleaning gel smeared in the bathtub.
Thank You Eva! I'm so glad that someone can appreciate my lack of mom jeans.
------------------------------------------------------------------------